Welcome to ZAO hot Spring! 

Our inn is a refined accommodation.

We don't have facilities of sulfurous hot spring, but you can use shower room.
We introduces public bath to you.
Shower room and lavatories are for common use.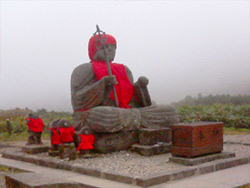 Package Rate 
One-night stay a weekday (including supper and breakfast) --- JPY6,930(with tax)
One-night stay a holiday (including supper and breakfast) --- JPY7,560(with tax)
We can prepare towel and toothbrush, but cannot prepare YUKATA, sorry. Please relax slowly.
Our staff can speak English a little bit.

Please come and stay here.
If you have an opportunity, very good service will be received.

 How to find our hotel. 
It takes 1 hour from Narita to Ueno by train. (KEISEI-Line)
Transfer at Tokyo station to Yamagata-Shinkansen. (2 hours 30 minutes)

Get off at Yamagata Station and take on the bus to Zao Onsen (Bus stop no.1, 50 minutes)
After arriving at ZAO Onsen Bus Terminal, go out of the front door; turn right up the main street.

You should walk street from the bus stop for about ten minutes, that name is JYUHYOU-DOURI.
Our hotel is located on the left side of JYUHYOU-DOURI.




 Address 
ZAO HOT SPARING PENSION CANDLE
935-18 Zao-Onsen-Kawamae Yamagata-City Yamagata-pref Japan
Postal code 990-2301
Phone&Fax:+81-(0)23-694-9883 begin_of_the_skype_highlighting +81-(0)23-694-9883 end_of_the_skype_highlighting
大きな地図で見る